I spent last week in Devon visiting my Dad who's in hospital and whilst I was down there had a nose around a few places and also sunk back into the way of life down there. Which is much slower and gentler than in Southampton – or so it felt. In a way it was a bit unreal as much of the time was spent visiting Dad in hospital but I also popped into the village and a couple of local towns and was really surprised at how much nicer people were, somehow less hurried and more willing to help / wait for things.
Being there, I started to feel better, easier in myself somehow – being less worried about being so far away was part of it but not the whole. I also felt I had more time for things – time to look around, time to rest, time to think and time to be true to myself, remake connections with friends and family I'd not seen for a long time. And it felt right to be there.
Since I've been back I've been thinking about what it was that helped me feel more positive – more hopeful and came up with some ideas:
1. Space
Dad's village is surrounded by hills on 2 sides and in the middle of rolling countryside – you get up in the morning and although you're overlooking a row of houses on the otherside of the road, behind them you see open spaces and the ancient Brent Hill.
Go to the end of the road and you get a fantastic view of Ugborough Beacon, one of the many local gateways onto Dartmoor – it looked impressive on Weds with its scattering of snow but guess who forgot the memory card for her camera!
2. History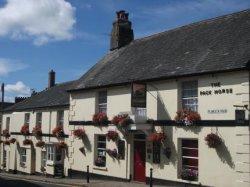 Most of the village and the local towns have roots that go back centuries – there's a sense of permanence and peacefulness. Most of the main village street has shops that have not changed their function in years! Living close to historic Totnes with its tudor connections and butterwalk is also inspiring, as its Ivybridge with its blend of older and modern properties and facilities. Totnes is the birthplace of the transition movement too and has a fantastic range of craft shops and shops selling fair trade and handmade goods from local designer makers.
The village church is ancient – evidence has been found of Roman remains in the belfry and parts of the current church are definitely pre Norman – it has that sort of inner peace you find in old churches and cathedrals. I went to show the friend who
had come with me to help with my care needs and we were really surprised to find it open. We spent a fair while there enjoying the atmosphere and feeling that God was there. I don't always get that sense in newer churches – perhaps because the stones have not had time to soak up the centuries of peace?
And yet in the 12th Century a priest was murdered there…….so perhaps the church is a good place to observe that time heals all wounds, even those which seem horrific at the time?
3. Belonging
Cities don't seem to develop the same feeling of community as villages and small market towns. Although the districts have shops they seem to be more impersonal somehow. I've got some fantastic friends in Southampton but met the majority through joining groups and organisations. Whilst in a village you get to chat to people when you pop to the shops or even when out and about. It was really lovely to get the enquiries about Dad from people who didn't just know him but also valued him and wanted to see him better again. Having grown up there I also felt a real connection with people and places and it was really relaxing to be surrounded by family again – it makes things seem more possible somehow.
4. Scenery
Being able to look out on green space, easily access nature, even in my chair etc also helps with the creative process and brings a sense of calm. I know if I want to go somewhere green and peaceful to think or be inspired creatively, its on the doorstep and there are many beautiful scenes visible from the road including this stunning waterfall at the ancient Lydia Bridge. The other side of the bridge is an allegedly bottomless pool – having swam in it I can confirm its deep and I didn't find the bottom but whether that qualifies it is another matter…
Legends and myths are associated with and attached to old places too and that helps me create – I think about what would this have been like many years ago and again the fact that some places change and others don't gives a sense of hope, through knowing that whilst change is inevitable it can be for the better. Some changes are seasonal and others more permanent, others fast whilst some are slow, waiting on the forces of nature to drive them.
And perhaps we can learn a lot about finding hope in difficult situations by finding connections with the natural world and the man made world and understanding that hope often needs to be patient and that change is not always a bad thing?
How does linking back to your past and reflecting on slower streams of life bring you hope?